Enjoy a Delicious Valentines Meal at Pen & Wig
Valentine's Day, the day of love. Show someone how special they are with a delicious meal at our pub restaurant in Cardiff. We've got everything you'll need for a romantic and unforgettable experience.
Our traditional pub offers a cosy environment set in beautiful surroundings. And of course, to complement your perfect evening, a great choice of high-quality food.
How about pairing your meal with a bespoke, build your own Gin & Tonic? You can choose everything from the glass through to your garnish. That personal touch is sure to get sparks flying.
Take a look at our indulgent Valentine's Day set menu below. Join us for either a two-course or three-course meal!
Valentine's Day Bookings at a Glance
♡ Available all day from 10th – 15th February
♡ 2 courses just £9.99
♡ 3 courses just £12.99
♡ £5 booking deposit per person
♡ Complimentary glass of fizz per person when you pre-book Valentine's Day Meal Set Menu
Starters
CHEESY MUSHROOM BRUSCHETTA (V) Button mushrooms sautéed with double cream, mozzarella, Cheddar, Camembert and Stilton®, served on toasted artisan bread.
PRAWN & CALAMARI DUO Crispy filo-coated prawns and panko-breadcrumbed calamari sticks, with lemon mayonnaise Perfectly paired with Albariño, Paco & Lola.
SOUP OF THE DAY (V) Ask our team for today's soup. Served with artisan bread.
SMOKED CHICKEN & HERB TERRINE Smoked British chicken breast & thigh terrine, mixed with red onion marmalade and served with toasted artisan bread and caramelised onion chutney.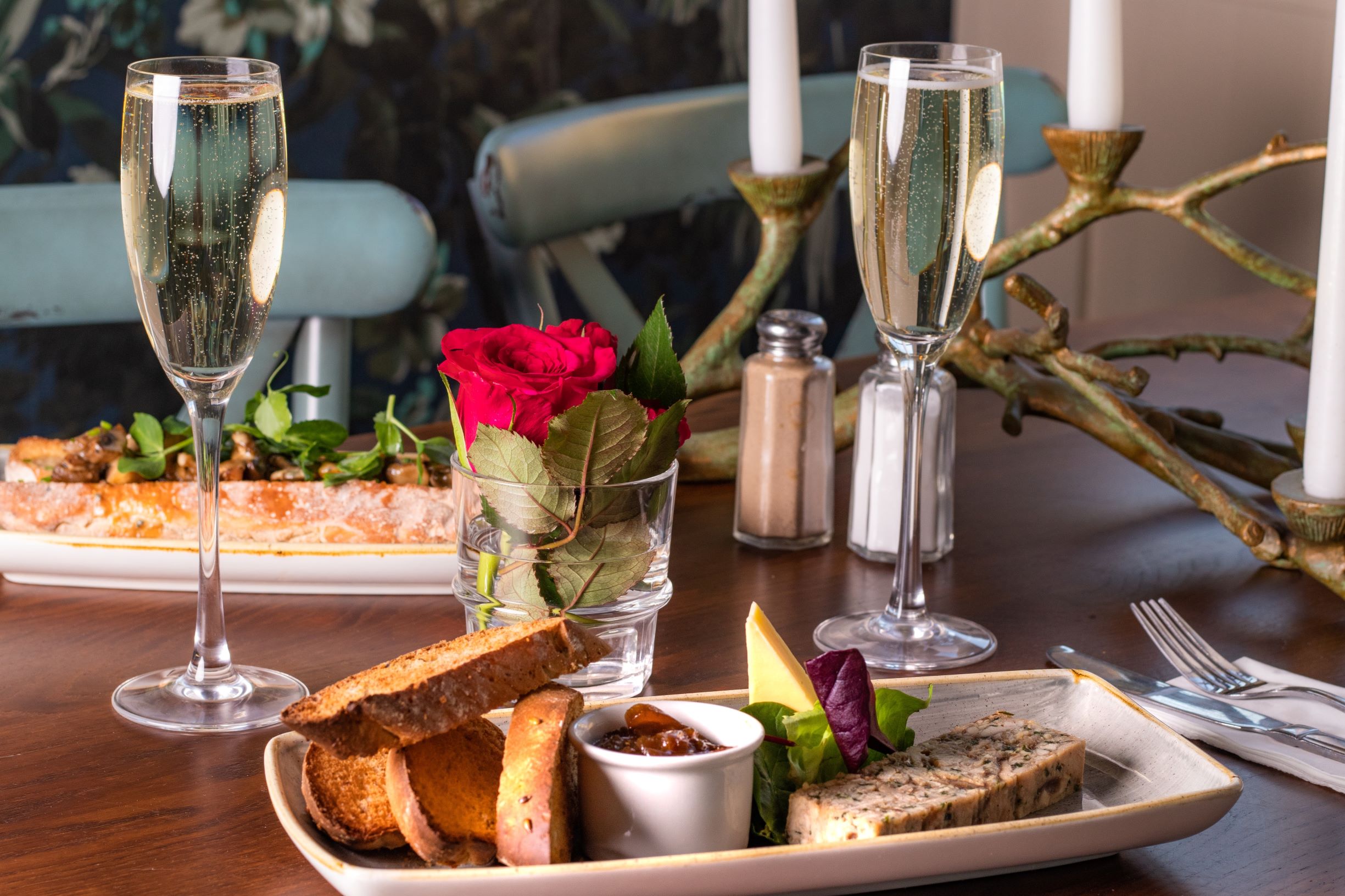 Mains
HAND-BATTERED HADDOCK AND CHIPS Cooked until golden and crispy and served with chips, tartare sauce and your choice of garden or mushy peas.
SAUSAGES AND MASH Pork & ale-flavoured sausages on buttery mashed potato, with red wine gravy, garnished with beer-battered onion rings.
BREADED SCAMPI Served with chips, tartare sauce and your choice of garden or mushy peas.
CLASSIC BURGER Beef burger served in a soft glazed bun, with burger sauce, ketchup, lettuce, chopped pickle and onion – with fries and a sticky BBQ dip.
MAC 'N' CHEESE (V) Topped with mozzarella and Cheddar, finished under the grill and served with house salad and garlic artisan bread.
PESTO LINGUINE (VG) Linguine pasta bound in almond pesto, with wilted spinach, slow-roasted tomatoes and sautéed mushrooms.
ROSEMARY & BUTTERMILK-COATED CHICKEN BURGER Rosemary & buttermilk-coated chicken fillet, topped with mayonnaise and diced gherkins, in a soft glazed bun, with lettuce and chopped onion.
Fancy something extra special? All options below have a £2 supplement
CRISPY BUTTERMILK PORK BELLY Slow-cooked buttermilk-coated pork belly rashers, with bubble and squeak, a fried egg, maple-flavour mustard & apple glaze and a crackling crumb. Perfectly paired with Château du Seuil Organic, Graves Rouge.
ROAST LAMB SHANK Slow-cooked lamb, with a rosemary & red wine sauce, served with buttery mashed potato and seasonal vegetables.
8OZ RUMP STEAK This classic cut is full of flavour. Our beef is matured for a minimum of 21 days Perfectly paired with Malbec, Alma Mora Reserve.
SMOKED CHEEZE & BEETROOT TART (VG) A vegan cheeze filling with butternut squash & onion chutney, encased in a beetroot pastry tart, with a quinoa, chickpea, butternut squash, soya bean, sesame seed & roast baby potato house salad.
BAKED SMOKED HADDOCK FLORENTINE FISHCAKES Smoked haddock, spinach & Cheddar melt-in-the-middle breaded fishcakes, served on top of an avocado, soya bean & slow-roasted tomato mixed salad, finished with lemon & olive oil dressing and an omega & sesame seed sprinkle Perfectly paired with Sauvignon Blanc, Brancott.
Desserts
CHOCOLATE FUDGE CAKE (V) A chocoholic's delight, served with your choice of custard, cream or vanilla ice cream.
CRUMBLE OF THE DAY (V) We offer a selection of fruit crumbles, served with custard or ice cream: please ask for today's variety.
BREAD & BUTTER PUDDING DIPPING FINGERS (V) Drizzled with caramel sauce and served with custard and vanilla ice cream.
CHOCOLATE SALTED CARAMEL TORTE (V) With chocolate-flavoured sauce and vanilla ice cream (VG-M) option available.
CHEESE PLATE (V) Four British cheeses – Isle of Man Vintage Cheddar, Belton Farm Red Leicester, Cropwell Bishop Blue Stilton® and Shirevale White Stilton® with mango and ginger – served with celery, black grapes, caramelised red onion chutney and Carr's water biscuits - £1 supplement.
Dietary and allergy advice: (V) = This dish is suitable for vegetarians (VG) = This dish is suitable for vegans (VG-M) = Suitable for Vegans, however produced in a factory that handles milk and/or egg with a may contain warning. Please note that we do not operate a dedicated vegetarian/vegan kitchen area. See main menu for full terms and conditions, plus allergen guidance.
Click below to book your table now, or feel free to give us a call. We are happy to help!